The newly launched Pragmatic Play slot game titled Spaceman propels players to space for an exhilarating gaming journey. This is an online crash-themed game where players are able to interact with one another while enjoying the game.
The goal in this particular kind of game, which has appeared on several occasions recently is for participants to get a pay out prior to when a crash happens. The greater the distance that the spaceman is able to fly, the larger the multiplier of your wager, giving you the opportunity to participate in a very profitable flight during which you might win up to 5000X your wager in a single round.
The games of this genre are rather simple, but we'll delve into it and dissect its content to learn what activities you as the player can engage in while there.
A brand-new video slot developed by Pragmatic Play called Spaceman is a multiplayer online crash game. It has a Return to Player (RTP) of 96.50%, which is within a very acceptable category. You can place a bet at any time in the course of the game between $1 and $100, with a chance to win a maximum of 5000 times your initial investment.
It is a game that elevates exhilarating occasions to an entirely different level, where players can considerably benefit from diamond hands yet often crash at the finish line due to them.
Spaceman Game Features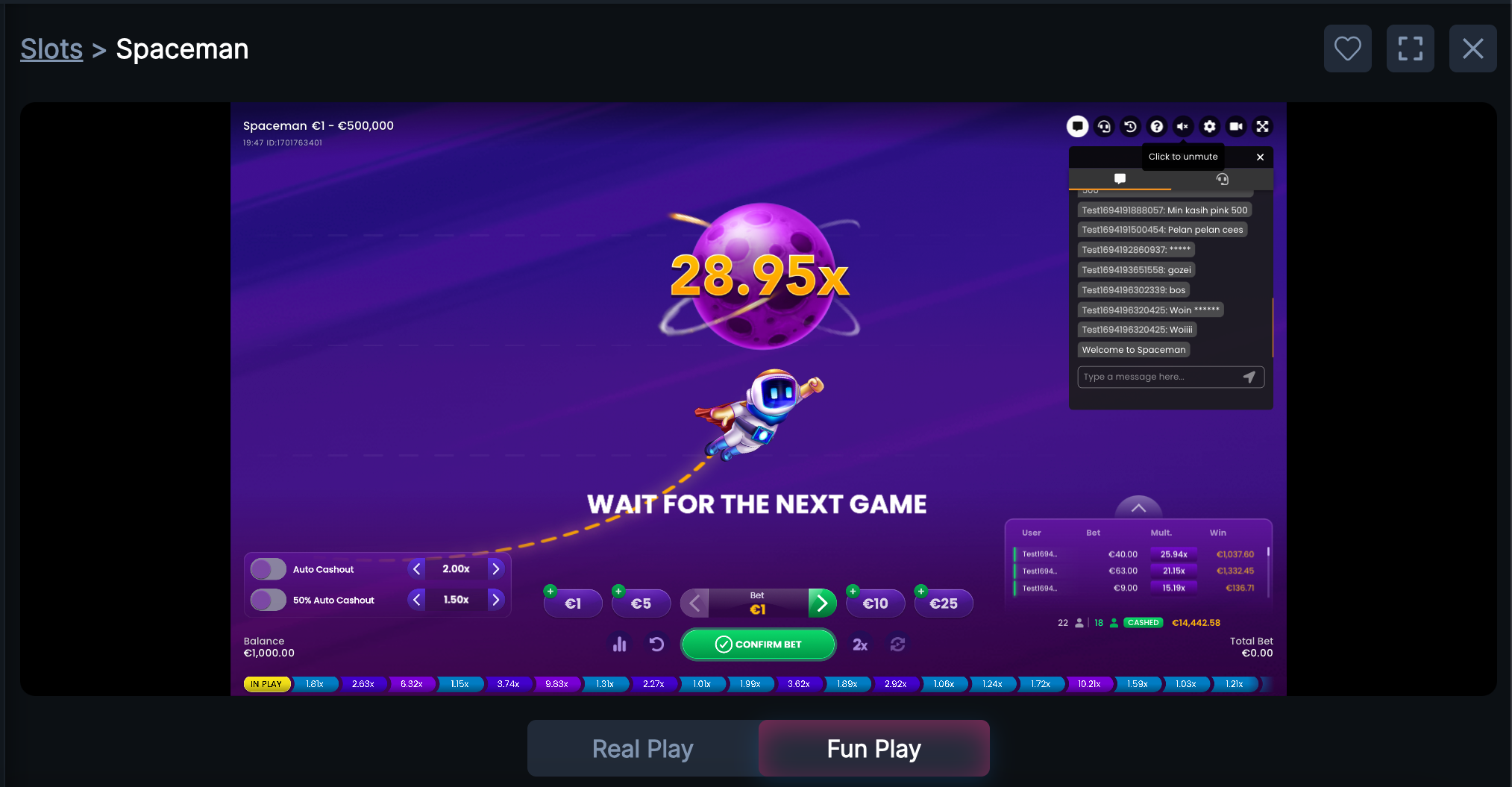 Every round begins when you select the amount you want to wager within a set time frame and click the "Confirm Bet" option. Similar to some sort of space superhero, the astronaut Spaceman lifts off, and the bet multiplier increases as further he goes. The multiplier begins out at 1x and increases gradually up to the 5,000 times win potential.Your wager (in the range of $1 and $100) will be placed in advance, and you can also choose a limit for automatic payouts that ranges from 1.01 times to 4,999.99 times. Since you are always able to manually pay out, doing this is definitely a good idea. Of course, there is also a chance that the Spaceman will crash at any time, which makes the entire space journey suspenseful.
There will be 2 additional buttons available as the game round begins. The Cashout 50% and the Cashout options are displayed here. Naturally, because this happens to be the sole means by which to win money in the game, the goal is to payout before the Spaceman crashes. A 50% cash out will ensure that you receive at least portion of your wins while letting the Spaceman proceed to increase multipliers.
Additionally, you need to be aware that the Spaceman can crash right away, even before the 1x multiplier gets to advanced an inch. This results in a total loss of the bet for you and everyone else. In a nutshell, it fails to return 1x the amount that was staked. If you choose, you can configure a 100% auto-cashout limit in addition to a 50% auto-cashout cap.
Information about Spaceman Slot
The premise of the game is space, and it exposes players to an adventurous spaceman who voyages between planets. The spaceman we get to follow is strikingly similar to the Astro Bot from earlier video games, and he frequently shows off his prowess at flying enormous distances. The violet cosmos that we are currently in, which is seen in the backdrop of the reels, is filled with numerous planets of various sizes.
There are typically very quick sessions that one is able to take part in, where an automated voice ticks down prior to the beginning and as one plays the game, escalating music will be played to help give an additional feeling of thrill while playing this game.
The display that shows up when visiting the game is completely encircled by an abundant amount of choices and details which a player is able to take benefit of. The chat box, which is located in the upper right section, allows participants to communicate with one another online by typing messages in it. You can select from a variety of sizes for betting at the bottom of the game's screen, from where you may additionally turn on Auto Cashout and 50% Auto Cashout. You may see the most recent multipliers produced during the spaceman's flight at the bottom.
Spaceman Slot Symbols Explained
This is not a traditional slot game and, so therefore, it does not have the traditional slot icons and meanings that typically accompany such games. Players use a continually rising multiplier that is displayed under the "place bet" option and is divided into two distinct features rather than matching icons to make wins. The initial one permits you to put down a wager any time you choose, while the subsequent one enables you to take a 50% payout of your winnings. You are still going to get 50% of your winnings if you crash when this second option is chosen. While a 50% wager is chosen, players have the option to put the remaining 50% of their wager at another point in time prior to the spaceman crashing.
How to Play the Spaceman Online Slot
Although Pragmatic Play, the creator of the Spaceman game, refers to it as being a "slot," we're going to employ that term even though it isn't very correct. When you download it to your computer, iOS, Android, or Windows mobile devices, an animated astronaut standing in a purple universe with otherworldly planets appears. When a flying saucer hovers overhead, the spaceman on the screen waves, holds out tiny hearts, or engages in other shenanigans.
Every minute or so, a new round starts, and you get a countdown clock to launch. The program controls it, so if a round ended just recently, you might have to wait a short while before the Spaceman takes off again.
The astronaut soars through the screen once you press "0" to start the game, then he softly floats back to the surface on bubbles in the shape of planets. In the following part, we'll go into more depth about how this operates, but for now, let's have a look at the simple controls that are located beneath the game's main screen.
At reputable online casinos like Bet999, you can change your betting range from 1 to 100 every round by utilizing the directional indicator keys or the '+1' to '+25' tabs next to them. You can set the Auto Cashout tab to a specific stake amount, which eliminates the need for constant button-hovering.
A 50% Auto Cashout option increases your chances of winning slightly; you can additionally combine them to serve as a safety net, while a premature crash still increases the likelihood of losing money. Verify your bet and watch for the launch countdown.
Engaging in the Spaceman game isn't a lonesome activity comparable to playing traditional slots because you can view other players' remarks in the space to the right of the game. You may conserve time by choosing one of the cashout choices that are available on the left.
Multiplier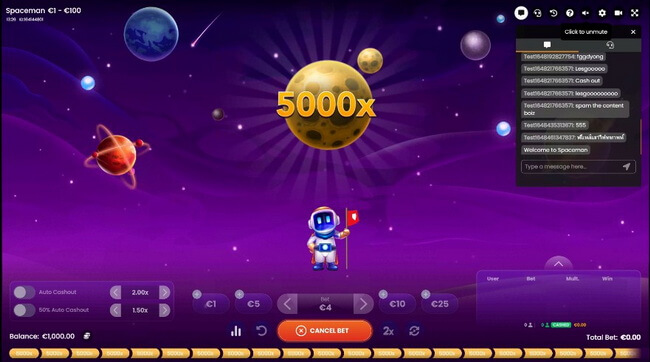 The multiplier in the game typically begins at 1.00X, and whilst the Spaceman flies, it rapidly increases until it reaches 5000X.
Placing Bets
Throughout your time playing this game, several texts on the display will indicate when you can place a wager or not.
Wait for the next round = If you entered the game after the betting period has expired, this message will appear to inform you to hold off on placing a wager until the next round begins.
Next game in = When the following sentence shows up, you may place wagers which can be in the range of one and one hundred dollars. When the countdown approaches zero, you are unable to put a wager anymore.
Bets closed = Players won't be able to place a bet after the timer reaches zero (the point at which the bets are closed). Soon after that, the round will be put into action.
Cashing Out
After you set a wager and the game begins, you have the option of clicking on "cashout" or "50% cashout" at any point in time. If you are able to click Cashout prior to the Spaceman crashing, your wager size will be increased by the prevailing multiplier. When you click 50% cashout rather, you are going to have the prevailing multiplier taken into account for 50% of the amount you bet. Note that the 50% of your original wager is still active, and you have the option to press the cashout button once more at any point. If the spaceman crashes prior to you clicking the cashout button, your entire bet will be lost.
Spaceman Slot One-Line Betting Strategy
This slot betting strategy is quite profitable and well-known for single-payout slots and games that do not come with a fixed paylines. The spaceman game functions rather differently compared to conventional slots since it has only one accumulating multiplier and no paylines, which precludes the application of the one-line setting strategy or any other slot techniques in this situation. There are nevertheless certain steps you can implement to reduce the losses you incur and create a more positive ultimate gambling session. Establishing monthly and weekly spending limits, and refrain from going over them. You ought to establish a limit on your spending and set apart certain amounts solely for gambling. Gamble responsibly at all times!
Check out the Free Play mode at Bet999
It is always a thing of delight to experience a slot or game in a complete demo mode. This is the most effective way to become familiar with the game's mechanics and acquire knowledge regarding the various features in any slot title. Providing your players sufficient opportunity to understand how the mechanism functions is even more crucial in the case of challenging games like the Spaceman. Due to the fact that these types of casino games are still very new and unheard of in the gaming industry.
As a top online gambling platform, Bet999 allows players to play spaceman and several other slot games in free mode so they can understand the principles of the game before deciding to play with real money. To be a beneficiary of this amazing opportunity, register an account with the operator and get mouthwatering welcome offer upon your deposit to play the game.
If you appreciate Spaceman Game you should also try
Aviator: Despite the fact that its visual presentation is obviously more archaic, this low to medium volatile Spribe version has grown fairly prominent. To improve the multiplayer encounters, aviator has an interactive chat feature, and you may even participate in competitions. Naturally, the basic gameplay mechanics are the same as in all crash games, and the 97% RTP is a respectable number and a decent strategy can help you win.
The Golden Hook: This is yet another Crazy Tooth burst release, however this time the focus is fishing as opposed to balloons. For as long as you have the courage, haul in cash fish because the line can break at any time. You may occasionally benefit from random multipliers up to x10, and there is also an attractive cash fish bonus game that you can look forward to.
The Incredible Balloon Machine: Maintain the play icon pressed to inflate balloons for as much time as you can in this Crazy Tooth Studio game from the "greed vs. fomo" series. Up to 3,083x could be added to the wager multiplier, but the balloon can still burst at any time.
Our Opinion of the Spaceman Slot
Unlike other video slots, this type of crash game does not offer the player a vast range of options to choose from while playing. Instead, it's a game with incredibly basic gameplay principles that allows you to accompany a Bet999 Spaceman on an exhilarating voyage. You place a stake before the game begins, and as this Spaceman flies a greater distance, the multiplier rises.
Because you have to make a decision on whether to cash out or not, it is at this point it quickly becomes incredibly adrenaline-filled for the player. The payment rises with the multiplier, but you lose the entire amount if the Spaceman crashes before you click the cashout button.
The duration that the Spaceman's next journey will continue is unknown because he crashes at random. The multiplier first increases gently, but as it increases, it does so more quickly. The question is whether there are enough people with the fortitude to wait around and cash out at this level despite the fact that 5000X is undoubtedly a very great prize to win. It's undeniably an enjoyable game that works well as a respite from playing traditional video slots.
An excellent feature that fosters a sense of community and provides extra entertainment is the option to communicate with other players online. While Spaceman as well as other crash games share some similarities, its superior quality helps it to distinguish out from the competition.
Spaceman Slot Pros and Cons
Pros
Win multiplier of up to x5000
Auto cashout available at 50%
Chat box option for multiplayers
95% RTP rating
Cons
Minimum bet of $1 and maximum bet of $100
No key features
Spaceman Slot FAQ
Is it possible for the Spaceman Slot to yield large wins?
Absolutely, players can claim up to 3,800 times their initial bet on this slot machine.
How much does Spaceman slot return to player?
The return to player rate of 96.5% for Spaceman is a little bit higher than average.
What is the Spaceman slot volatility level?
The Spaceman slot is devoid of fabricated volatility. Through the auto-cashout level option, you can easily establish your own level of volatility. Set it low if you want to frequently receive lower payments, or medium to high if you will prefer to receive larger payouts less frequently.
What is the largest victory that can be had?
The maximum win bet multiplier as the Spaceman flies pays out a very respectable 5,000 times your initial wager.
Does Spaceman have a multiplayer component?
Although you can speak with other players, neither the gameplay itself nor the rewards are in any way impacted by the multiplayer aspect.
Is there a free spins mode or other bonus features in Spaceman?
There aren't any actual additional features (or rounds), as every single round is identical. The closest thing to a bonus feature is the Cashout 50% button because not all identical installments have that choice.
How much does the Spaceman slot machine require as a minimum wager?
You can play a round of the Spaceman slot machine for as little as $1 or as much as $100. For gamers that play with minimal stakes, that might be a bit high, but it's an adequate range that will work for most budgets.
Is Spaceman a nice slot machine?
The Spaceman slot machine is a very unique game, but it's entertaining and has the ability to pay out a lot of money. We also think it's a great game because of the appealing theme.
The Spaceman video slot is produced by who?
The Spaceman slot is created by Pragmatic Play. Additionally, they provide the slots Might of Ra, Rainbow Gold, and Gates of Olympus in addition to the Buffalo King Megaways slot. All of these games and more can be played at a top Pragmatic Play website such as Bet999.
Can I play the Spaceman slot on a smartphone or other mobile devices?
The Spaceman slot is made to function just as well on personal computers and other desktop platforms as it does on mobile devices running iOS, Android, and Windows. A fast game may be played virtually anyplace.