A poker timer is a device that is used for overseeing the timing of each betting round and for keeping record of the blinds and antes in poker games, particularly in tournament settings. It contributes to the seamless operation of the game and guarantees that every player has an equal amount of time for making judgments. Poker timers frequently include elements that let players know when it's their turn to act, manage breaks, and show the current blind levels. They support the integrity of the rules and fairness in poker games.
If you enjoy playing poker or have actually played, you are aware of the time-consuming and challenging that the game can be at times. When it comes to controlling the play, there are a lot of things to take into account, regardless of whether you're hosting a game with friends or participating in a typical casino in one of the poker rooms in Vegas.
A poker timer is one item that could make things simpler. We'll examine a poker timer's definition, operation, and potential advantages in more detail in this post.
Characteristics of a Good Tournament Clock
A poker timer's characteristics can change based on the particular design or software that is being utilized. Nonetheless, the majority will provide some fundamental features like:
Determining blind levels: You can set blind levels to ascertain the minimum amount of money that each participant must give to remain in the game.
Scheduling of rounds: The sequence of rounds varies based on the kind of poker you're participating in. For instance, a typical round of Texas Hold 'Em lasts several minutes.
Monitoring breaks: Participants may need to take quick pauses even while they are engaged in the game. To ensure each participant stays according to plan, a poker timer can be used to keep track of them.
Thus, what would make using a poker timer desirable? This tool can provide the following benefits:
Increased efficiency of gameplay: Games can proceed more swiftly and easily when players are kept on task and spend less time debating technicalities.
Equal opportunity: Participants won't feel hurried or receive an unfair edge because each round and choice-making window have specified timers.
Improved concentration: When everyone is aware of how much time they have left for each round, they can concentrate only on choosing the best course of action without being concerned about running out of time or slow rolling.
Personalization: You can frequently adjust a poker timer's parameters to precisely suit your style of play, based on your own requirements or personal tastes.
Types of Poker Tournament Timer
Poker timers come in a variety of forms, from straightforward desktop programs to intricate digital gadgets that may be utilized in a casino and for any variant of poker. Popular choices include of:
PokerStars Home Games Timer: This free timer program includes adjustable options for blinds and rebuys and is made exclusively for use in online poker.
The Poker Genie: You may customize blind settings and timing gaps with this digital gadget clock, which also comes with a built-in chip set.
Apps for mobile devices: A variety of mobile applications are available with poker timer features. BPS Poker Timer, PokerTimer.com, and Poker Timer are a few well-liked choices.
Online POKER Timer in Action check
What exactly is an online poker clock, and exactly how does it operate then?
In order to prevent confusion among participants regarding poker tournament phases and action, a Poker Clock Timer maintains the status of blinds and levels. You can keep up with your home poker games in the simplest way possible with it.
Together with establishing both small and big blind amounts, any antes, and the total amount of participants in your game, you will also be able to choose the blind levels. The poker timer will make sure everything proceeds as planned whether you select a regular, turbo, or deepstack game with longer levels.
With the help of this straightforward poker tool which several top casinos and those who operate online such as Bet999have incorporated into their poker games, you can speed up and organize your games, which will make your time at the table more fun.
How to Use The Poker Clock
With a free edition and a commercial version, the Poker Timer is a great tournament management tool. You don't need a comprehensive handbook to get started because the software is incredibly quick and simple to set up, and each step is highly self-explanatory.
The software offers three pre-made tournaments that you may use as a model for your tournament's framework, or you can easily design your own. You can run the three pre-made tournaments exactly as they are or modify them to make your ideal, personalized tournament. They go by the names Championship, Turbo, and Home Game.
The event layout should be considered first whether starting from scratch or making changes to an already-existing event. This is the area where you can configure the antes, blind levels, duration of each level, and pause times:
Inputting the number of entrants is the following stage. You can easily add or remove participants as needed for any of the three pre-arranged tournaments, which immediately begin with six players. It is also advised, though not required, to provide the names of the participants.
Following this, you must act fast to arrange the tournament's buy-in and the first chip allocation for each participant. When organizing a rebuy tournament, you must include the total cost of all add-ons and rebuys, as well as the number of chips that will be awarded to each participating player.
Entering the number of reward spots and the percentage that each payout slot receives is the final step before you can begin hosting an event.
You can practically set up a competition in just a few moments and be ready to start, despite the fact that it may seem more complicated.
While engaging in the poker tournament, a sizable clock indicates how much time is remaining in the present blind level, when the following blind level is supposed to start, as well as when the next break is supposed to happen. If there's a need to manually stop or advance the time, you can do so as follows:
While the poker tournament is in progress, you can also choose to view the rewards on a separate tab, which will maintain the tournament clock visible at the same time. When the money bubble is about to burst and every individual is in the money and expecting pay increases, this tab may be helpful.
There are two in-game tabs that provide information on Texas Hold'em regulations and the best poker hands for new players to assist them understand the game. Given that poker is a family game, they could be helpful for the genuine novice who does not understand the rules of the game or that a flush is preferable than a straight.
You can manage players with the various in-game tools. Keeping track of each of the players and their decisions to buy a rebuy or add-on for additional chips, as well as when they have busted out of the poker tournament, is incredibly simple. The conditions you selected upon setup will determine how the prize pool is adjusted automatically.
The computerized poker host on the Poker Timer notifies participants audibly when blind levels are about to increase in ten, five, and one minutes. In addition, a countdown is included in the tournament clock for the final ten seconds of every blind level. Participants might also find important announcements regarding rebuys and knockouts.
Although a Poker Clock can be available to use free, we advise using the full edition if you are hosting a poker tournament because free versions have constraints. The free version has limitations: it can only be used when connected to the internet, it cannot be used to create or save a poker tournament, it cannot be used in full screen mode, and it can only support a maximum capacity of a preset amount of participants. Additionally, may include adverts which can slow things down.
When to Use the Best Texas Hold'em Timer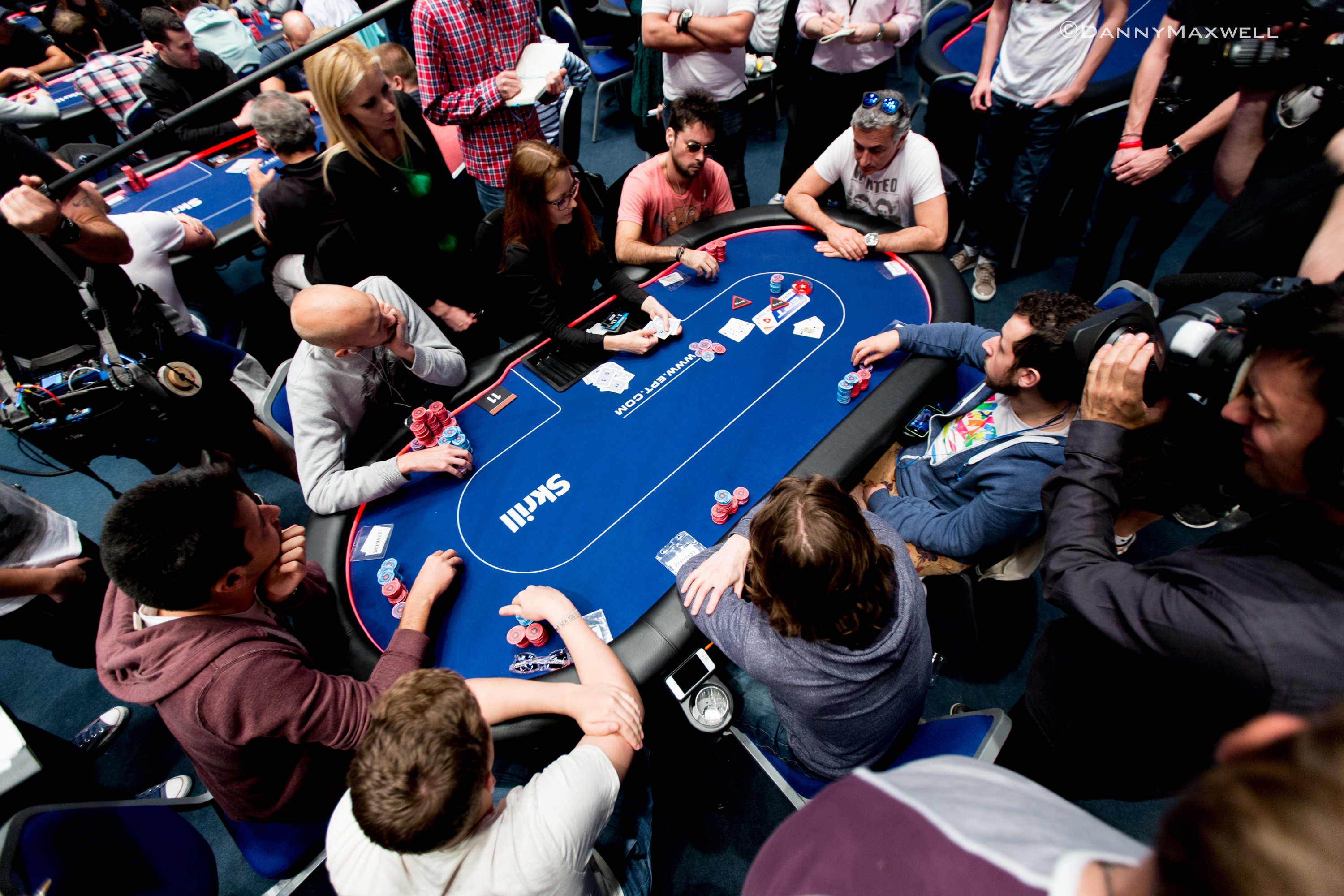 In any poker game, including Texas Hold'em which is commonly played by the best poker players, you can utilize the poker clock to establish or monitor the time and blind levels. The clock is the ideal way to ensure that everything goes according to plan, whether or not you're organizing a modest gathering for a few neighbors or a gaming night at home with pals.
Having fun while playing is preferable to wasting time worrying about blind spots and attempting to stay on top of competition levels. You can find and allow the free poker timer available online to handle the aspects of the game that you would prefer not to monitor, allowing you to concentrate more on your skills.
It will provide a level of skill and accuracy to your poker games as they are very easy to employ.
Poker Clock FAQs
How do you use a poker tournament clock?
A poker tournament timer is a device that is used to control the timing of gambling rounds and the raising of blinds and antes in poker games, particularly in tournament settings.
Why is a poker tournament timer necessary?
Poker timers ensure that each gambling rounds has a uniform time limit and that blinds grow at predetermined intervals, which helps maintain organization and equality in poker tournaments.
What characteristics of a timer should I search for?
When searching for a clock for your tournament, seek for clocks with features including scheduling breaks, managing player information and chip counts, alert functions, and countdown timers for every gambling round.
When playing poker online, is it possible to utilize a timer?
The main use for poker clocks is in live poker rooms and tournaments. Most online poker rooms have their own internal time systems.
Are there any distinctions between digital and physical poker timers?
Digital poker clocks are software applications, whereas physical poker timers are stand-alone devices. While they both have the same function, digital timers frequently have more functionality and customization options.