Mines is a wonderful arcade game that you can play at some crypto casinos including bet999 crypto casino. The aesthetics of Mines games is clean and lean. The game is basically about the mechanics of the game. Players who enjoy playing a game for the way it plays rather than the game's physical appearance will enjoy playing the Mines gambling game.
Like most crypto arcade games, Mines casino game is changing the narrative of what casino games can be. Casino games now aren't just about cards, slots, and roulettes. With these new arcade games, you can win money at any time there is a wrong or right answer.
The basics of the Mines casino game are very simple. There is a grid with some tiles and you have to uncover them, underneath some squares are multipliers, but if you uncover a mine, you lose the game.
Mines game was inspired by the classic Minesweeper game. If you have played Minesweeper or any variation of it, you will find the Mines game very easy. If you didn't play the Minesweeper game, you will still find the Mines casino game very simple.
The main difference between the Minesweeper and the Mines game is that you control the settings in the Mines game, like how many Mines you would like in your game. You can win up to $1 million from Mines gambling games depending on the size of your bet.
How to Play the Bet999 Crypto Game Mines
The Mines casino game has a 5 by 5 grid as the main game area. Below the Mines grid, you will find the section for bet options. You can bet as low as $0.0001 on the bet999 Mines game, and as high as $250.
Beneath the bet option area, you get to choose how many Mines you want in your game between (1-24) Mines. The more Mines you choose, the harder the game gets, and the higher your payout. Like most casino games, the position of the Mines is determined by a Random Number Generator (RNG). After all these settings, select the bet button.
Then proceed to uncover each square by selecting a tile on the screen. If you uncover a tile with a mine, you lose.
For every tile you uncover successfully, you have a payout. You can cash out your earnings at any time. For example, you set your games to 8 Mines, but after opening 10 tiles, you are okay with your winnings and don't want to take any more risk, you are free to cash out.
Understanding the Mines Gambling game.
Having understood the basis of the Mines casino game, let's take a deeper dive into the Mines game board and the functions you will find in the game.
First is the Amount tab that appears when you open the game. You need to enter the amount you will like to bet with on this round in the bet amount section.
After setting the bet amount, select the number of Mines you like. You have the option to choose between 1 to 24 Mines. If you select just a mine, you will have 24 gems, and you will have just one gem if you choose 24 Mines. Also, you need to choose a field on the Mines board and if a green gem appears, you win.
You might be wondering why someone would choose as many as 24 Mines. The answer is simple: there are people out there who love risk gambling. Plus the more Mines you activate per game, the higher your potential payout(winnings).
When playing these games of pure chance, we recommend you find a happy balance between your desire for a huge payout and the level of risk you are willing to take. Just find what works for you.
After you have entered the betting amount and the number of Mines you want on your Mines board, it's time to start playing. To begin, click on the bet button. Now you need to cast your eyes on the face-down tiles on the screen.
Begin the round by clicking on any of the tiles to unveil what is underneath. If you uncover a gem, your potential profit (multiplier) increases. You will continue to play and increase your profit as your multipliers increase with each gem you uncover. On the other hand, if you detonate a mine, the round ends and you lose all your gambling money.
You can decide to work your way through the entire mine board to win the top prize, but if the risk is too much for you, you can always cash out. To cash out, select the green button labeled 'cash out', and you will get your profit as calculated by the multiplier.
Mines Max Bet and Max Profits
If you are familiar with other Bet999 crypto casino original games like Plinko , Hilo, or Dice, you might have observed that they almost have the same betting limits. For the bet999 Mines casino game, the maximum bet amount is $200,000 and the maximum profit is $1,000,000! How amazing is that!!!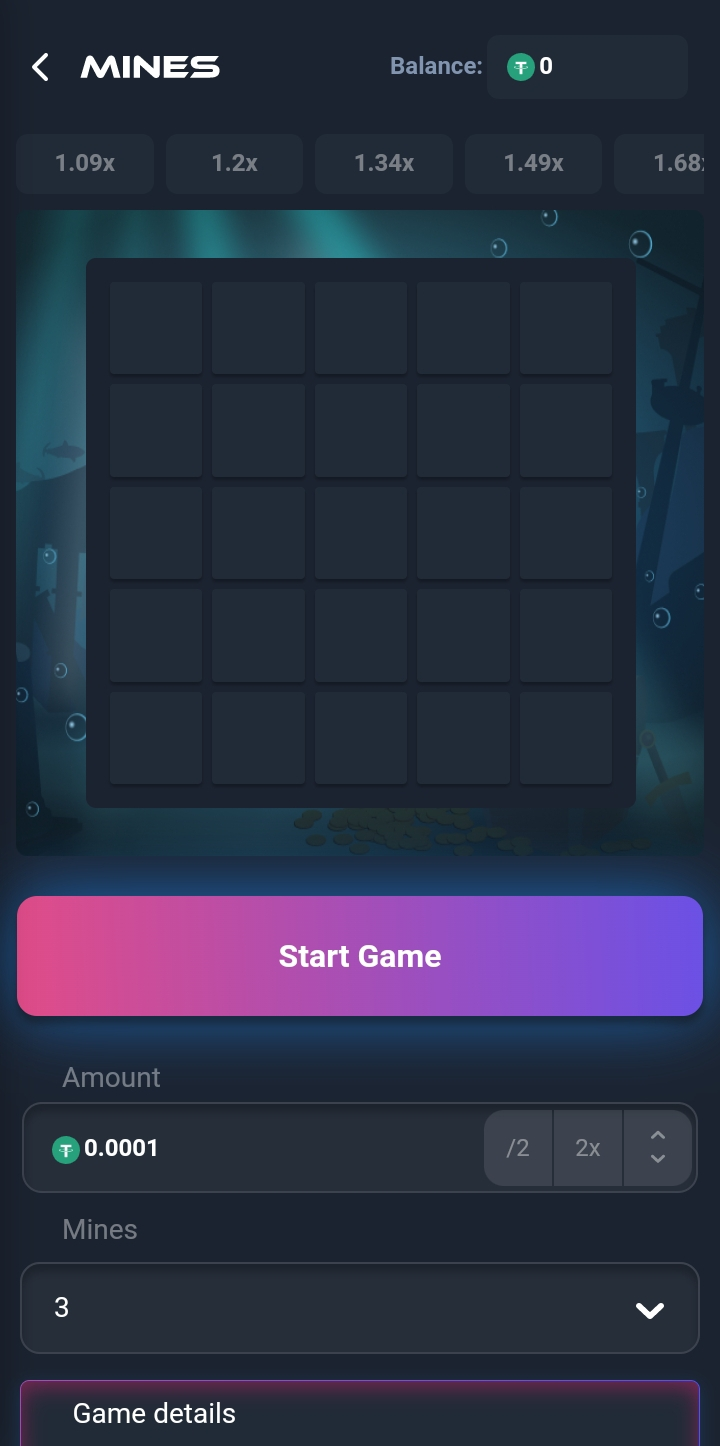 Playing Mines for Free
If you log in to the Bet999 website, you won't find a demo mode for the Mines gambling game. But this shouldn't make you sad. Although there is no demo, you can still play the Mines game for free. All you need to do is set the Bet amount section at 0.00 ETH or 0.00 BTC or whatever cryptocurrency you choose to play with, select the number of Mines you want, and proceed.
This way you get to play the Mines game for free while gaining a better understanding of the game. You won't win anything if you play for free, but you still won't lose anything. This is the best place for newbies in the game. Seeing as you can play Mines for as low as $0.0001 on bet999, you are advised to start with little amounts. This way you gain a better sense of the gain while you win something no matter how little it is.
Game features in Mines
Although there are no free rounds or free spins to be won playing Mines, that doesn't mean that the game doesn't have any features. Here are some features of the bet999 Mines game:
Multipliers for Mines
The more Mines you add to your game, the higher your payout for each tile you uncover. Because the more Mines in the game, the harder it's to discover a gem. In other words, you are being rewarded for your risk.
Provably Fair game
Mines is a provably fair game. This means that the game is written onto the Blockchain. You can verify this fairness for yourself. This feature is unique to crypto casino games.
Variable Number of Mines
Bet999 allows you to pick your odds by allowing variable numbers of Mines to be added to your mine board for each round. This means that if you want a high-risk game, you can pick a high-risk number of Mines like 24 on your mine board. And vice versa. You can set your number of Mines to as low as 1 mine.
Pick Random Tile
To even add more randomness to your rest or even have someone else choose for you, all you need to do is press the 'pick a random tile' button as you play the game. You can decide to do this once or throughout the entire game. Although there is not much difference in terms of the outcome, whether you pick a random tile or click on the tile yourself, it's nice having this option to spice up your game.
Cash Out at Any Time
Another sweet feature of the Bet999 Mines game is the escape clause. For example, if you set 12 as the number of Mines depending on the level of risk you want. But if after 6 straight correct guesses, you think you have won enough, you can decide to cash out at any time and go with your winnings. You can simply cut the round short and still retain your profit.
Our Final Assessment of Bet999 Mines
If you didn't play or you missed the Minesweeper game, you will be pumped to discover the bet999 version of the game. The fact that the profits are in various cryptocurrencies is just a plus, the Entertainment element of this game is very high.
Mines game is fast and fun, and if you are lucky, it can make you a huge profit of up to $1,000,000. Mines casino game is a real winner and stands out amongst other Bet999 original games.
Mines Game FAQ
Here, we answer all the possible questions you might have about Mines and playing it on the bet999 crypto casino.
1.) Are there strategies to play Mines?
There is no strategy at all for playing this game. Mines gambling game is suitable for a complete beginner because it's very easy. Having said that, there are some preferred ways more experienced players might have.
A very popular mine strategy is to add more Mines to your game. This way, you increase your payout per tile and multiplier. You will only need to uncover a few tiles to hit a healthy profit. If you are happy with your profit, you can decide to cash out, rather than finish the round according to this strategy.
An opposing strategy to the above strategy is very popular among newbies and those who don't like taking much risk. They play with fewer Mines and uncover more tiles, this will still yield a profit, but not as much as the first strategy.
Decide which of these strategies suits you and stick with it like any other casino game.
2.) Do I have to download the Mines game to play?
No, you can play Mines directly from the casino's website using a mobile browser. There is no software or app needed. It doesn't matter if you are playing on your phone or computer.
3.) Is Mines the same as Minesweeper?
While Mines is inspired by Minesweeper, it's easier than Minesweeper and more intuitive.
4.) Is there a Mines app?
To play the Mines game on your phone or tablet, all you need to do is visit the casino's website and play directly from there, or click here to play.
5.) When does a round of Mines game end?
There are various ways a round of Mines ends. One is when you uncover a mine underneath a tile, the game ends and you lose your winnings. Another way is when you cash out your earnings when there are still tiles to uncover.
The ultimate way of ending a round is when you uncover all ppthe tiles successfully. The game ends and your earnings are added to your bankroll.
Is Mines different from Windows Minesweeper?
Primarily, the Mines crypto casino game follows the same concept as the Windows Minesweeper. The Minesweeper was just a leisure activity while the bet999 version of Mines offers much more, including a financial payoff if you are lucky and persistent. Beyond that, the bet999 version of Mines creates a whole new level of tension than the windows Minesweeper.
In Which Currencies Can Bet999 Mines Be Played?
Like all of our games at bet999 crypto casino, our Mines is a blockchain-based game and can be played with all cryptocurrencies accepted at our casino including Bitcoin, Ethereum, Litecoin, etc. You can also decide to view your betting values in other currencies like dollars, euros, etc. This will help you calculate your stake and winnings easily. But whatever works for you though.
Can Beginners Play Mines?
Yes, a complete beginner can play the bet999 Mines. You don't need to be an expert to do so. It takes more luck than skill to play this game.
If you feel hesitant to play as a beginner, we encourage you to begin by playing for free or betting smaller amounts to boost your confidence. The simplicity and randomness of this game make it great for both beginners and seasoned pros.
Which Mines Strategy Is Best?
While we would love to name a specific strategy for winning in Mines, there is none. Especially since the game can not be predicted or calculated due to the random number generator that shuffles the game at every round. You just need to be persistent in trying your luck.