When playing Plinko at Bet999, the ball is dropped from the top of a triangle-shaped pins board after making your wager. After hitting the pins, the ball changes direction as it falls and lands in one of the compartments beneath the pins board.
Each box has a special cash prize that is denoted by the multiplier of the stake, such as 0, 5, 2, 22, 1,000, etc. The central area has minor payouts, but as you move to the triangle's edges, the bet multipliers in the boxes get more extensive.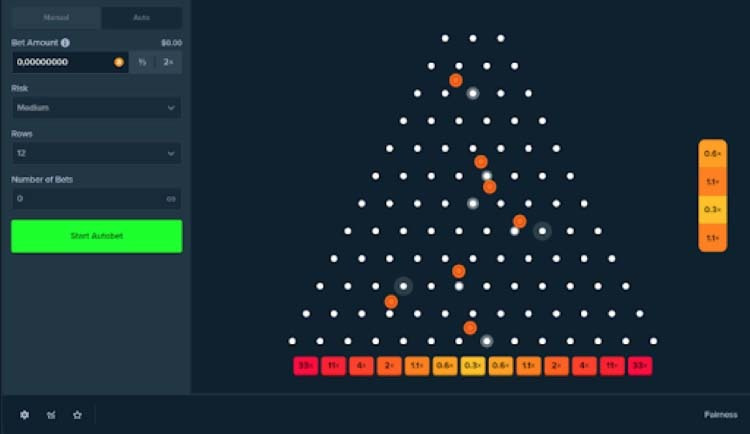 Of course, the primary goal of this Plinko guide is to arm you with all the information you require so that you may fully appreciate this excellent game. Below are the significant steps to follow to learn how to play Plinko at Bet999
<H3> Adjust The Bet Size
The initial stake in playing Plinko is to decide on the wager size, which typically ranges from $0.1 to $100 but maybe more. Pick a suitable wager size, but keep in mind that Plinko automatically moves more quickly than most casino games, so you might wish to bet slightly less.
<H3> Set the number of pins
You do have control over the size of your Plinko board. The number of pins determines the volatility level: fewer pins increase your chances of winning but result in lower payouts. More pins increase your chances of winning but result in larger payouts less frequently.
For instance, the maximum payoff on the BGaming version of Plinko when playing with eight lines of pins is 29x, with a chance of 0.78%. The maximum payout increases to x1000 when you add 16 lines, but your chance of winning drops to 0.003%.
There is no ideal number of pins to use; however, if you're on a low budget, it's advised to play with fewer pins to extend the duration of your gambling session.
<H3> Choose The Risk Level
While the Plinko game is relatively straightforward, there is much room for customization to suit different players' preferences. Players can control the game's variance to some extent by adjusting the risk level.
There are three variance options: low, standard, and high-risk games. You'll notice that the multiplier value on the boxes adjusts when you go between the levels. Significant risk results in high rewards, making winning less likely. Keep your risk lower than usual if you don't anticipate dropping many balls down the board.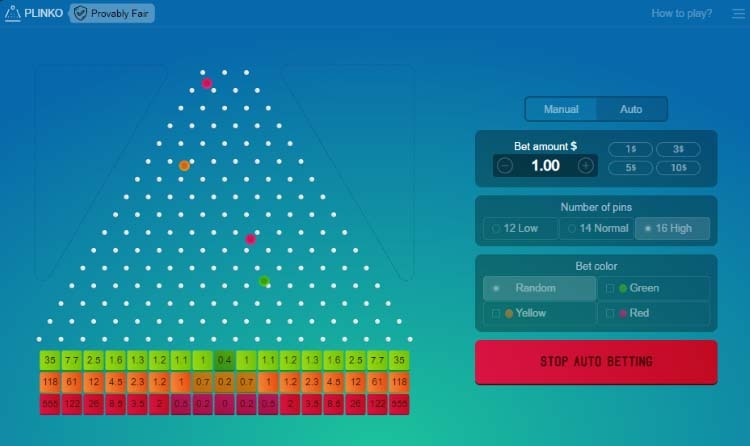 <H3> Manual or Autoplay
The game offers manual and automated options for players, just like online slots. However, Plinko's automatic setting causes numerous balls to fall down the board simultaneously, each representing a wager, making the game's pace much faster than slots. Every player should remember this while placing bets because they can quickly and drastically blow through their budget.
You can set Plinko to autoplay with all three risk levels active at once, each indicated by a distinct ball color, depending on your version. Additionally, you can specify the number of bets or balls you desire, and the autoplay will end at that point. Still, you have the option to stop at any time.
<H3> Provably Fair Game
When you play Plinko, you may verify if it is a provably fair game to see if the outcomes were truly random before any bets are placed. Bitcoin casinos will show players a casino hash and a client hash; after placing a wager, you can check to see if a different seed matches the first hash.
<H2> The origins of Plinko
You need to understand Plinko's history before learning how to play. A Plinko chip was offered to the player when it first appeared on The Price is Right in 1983 with the possibility of winning a reward. They were also handed chips for extra opportunities to succeed in the mini-games.
After dropping the Plinko chips, players are not permitted to stop the game and walk away since they must use up all their remaining chips before collecting the accumulated rewards.
The mechanisms of casino Plinko lottery games were based on this. Adjustments were made to make it more engaging for a casino player. The chips are given out for each wager made instead of mini-games.
<H2> How to win at Plinko: Start your game right
The first consideration for our Plinko best guide post is how the game is played. Besides the game's regulations, there are no precise guidelines to follow while playing. How casino Plinko operates is as follows:
<H3> How to play Plinko: Drop the chip and watch where it lands
Setting your wager by the table limit offered by the casino game is the first thing to do. You drop the chip on the pegs fashioned into triangles and watch for it to land in one of the slots at the bottom.
<H2> Plinko Game Mechanics
Compared to the other games at bet999, Plinko is special. especially in light of the fact that each outcome is determined by the trajectory of the ball as it is dropped. The Plinko board's horizontal levels produce either a left or a right. The ball's journey is then immediately translated from this into a visual representation.
This means that the outcome must be all left or all right paths for the ball to hit the maximum payment. The ball may move more than once per level to improve the game's aesthetic appeal and realism with regard to gravity.
However, this has no impact on the outcomes that the client and seed pair generated. The ball can only move in one of two directions, either left or right. As a result, translating just requires multiplying each float by 2, as there are mirror payouts on each side of the board. The following index is then used to map it.
<H2> Choosing the Bet999 for playing Plinko
Choosing Bet999 for playing Plinko is a good idea, even though every casino has its benefits and drawbacks. Our intuitive user interface and state of the art client portal possess the necessary characteristics one needs to look out for before signing up for any online casino. These features include;
<H3> Legality/Licensing
Check to see if the online betting site has a valid gambling commission license and is subject to their regulation. This is a factor that should be carefully taken into account, especially when an online casino has just recently come into existence. Bet999 is a licensed casino with a valid SSL Certificate, making it a good fit for playing the Plinko game.
<H3> Payment Options And Currency
Choosing a betting site that accepts all popular payment methods in addition to their own currency is recommended, as this will prevent you from having any currency conversion or withdrawal issues. Bet999 makes it easy, you can play Plinko with cash or with crypto, and there are various payment options you can choose from, for instance, bank transfer, credit card, and more.
<H3> Security
It is best to use a website that can provide SSL encryption for high levels of banking security as well as data protection guidelines. Before making a decision, be sure to research valid ways to keep yourself safe when playing casino games on the site. With bet999, you can have fun playing Plinko and winning your money knowing your details are secure.
<H2> The right strategies and tips for winning Plinko
Plinko is a lottery game that depends on your luck, so there isn't an essential strategy you may employ. You risk winning big money if you land in the central place.
However, this does not imply that there aren't practical ways to raise your chances of winning significant cash prizes on the Plinko board. The following strategies will help you master Plinko casino:
<H3> Always take your bankroll into account
An often-overlooked casino strategy is always keeping your cash in mind when laying out your gameplay strategies. This is because your bankroll influences your ability to play. You must understand that the more money you lose, the quicker your bankroll is depleted. To keep playing, you must win money and constantly check the balance in your account.
<H3> Place low stakes and set limits
The pegs in Plinko make it unlikely that you will land on the center slot. Therefore, Plinko uses a random number generator and is provably fair because it makes it impossible to predict where the chip will land. You may carefully manage your stake by making small wagers and setting bankroll spending caps. You can also use betting strategies like progressive schemes and their equivalents to increase your winnings.
<H3> Never chase losses
Some casino players frequently feel that despite their losses, their luck will eventually turn around, and they will win. Never try to make up for losses. If you do, the process will continue to cost you more money. Knowing when to stop playing is necessary. But it's honorable and wise to call it a night and start from where you stop.
<H2> Why should you play Plinko at Bet999?
Playing Plinko games at Bet999 offers you lots of fun and refreshing moments due to the several available variants. All that is required to play is waiting for the chip to drop and reveal the prize you stand to win.
They are both fun and simple to learn. The game is easy to understand and is suitable for players of all ages, plus it's appropriate for big rollers and casual players because it can be played at various stake levels.
The game is an exciting gambling one because it can be won or lost depending on the player's luck. But such a straightforward game raises the question: Why should you participate in and place a wager on a Plinko game at Bet999?
<H3> High likelihood of significant wins when using the proper approach
Although Plinko is a game of chance and luck, you can still use several techniques to increase your winnings. Every time you drop the chip, you can win enormous rewards if you use the proper methods that suits your gaming objectives.
<H3> No need for expertise or sophisticated tactics to prevail
Some players prefer games that encourage critical thinking and problem-solving. But if you play skill-based games all the time, they can get monotonous. When you need to play mindless casino games, head to Bet999 to try your hand at Plinko so you can relax while still making a respectable profit.
<H3>Exciting gameplay with a great degree of fun
The anticipation of the chip dropping on the Plinko board may be exciting, even with straightforward game rules. It's even more thrilling when the chip lands close to the larger payouts because it increases your chances of winning big when it does.
Because it started as a mini-game in The Price is Right, playing this game can also give you the impression that you're on a game show.
Players must first fund their accounts to play Plinko for real money. Numerous ways can be used to do this, including bank transfers, e-wallets, credit cards, and debit cards. When the money is placed, gamers can begin wagering real money.
Additionally, withdrawals can be processed through several channels, including bank transfers, e-wallets, credit cards, and debit cards. The standard processing time for withdrawals is 24 hours. The processing of leaves, however, could take longer at some casinos. Before requesting a withdrawal, players should review the casino's withdrawal guidelines.
<H2> Plinko – Crypto Game FAQ
<H3> Where can I play Plinko for free?
The Plinko game is free at bet999 and other online casinos that have this game
<H3> What is the best strategy for playing Plinko?
Although luck plays a large part in the game, statistically speaking, dropping chips in the center of the top is most likely to result in a large payout. Try placing the chip three or four places outside of the center. Consider dropping your chips instead three to four spaces to the left or right of the center entry slot.
<H3> Which is the better version of Plinko – BGaming or Scribe?
It's hard to decide which is better; each has its benefits and drawbacks.
The Scribe Plinko offers the lowest minimum wager and the lowest maximum payoff at 55,500 coins. The ultimate payoff in the BGaming version is 100,000 coins.
BGaming and Spribe Plinkos offer automatic modes that let you observe several balls falling at once.
The danger level in the BGaming version is low, average, and high. The payment increases as the risk do. Scribe Plinko risk varies with the color of the balls you utilize. Green represents the lowest risk, followed by yellow and red for higher stakes.
<H3> Do I have to play Plinko with Bitcoin?
No. While Plinko is exclusive to crypto casinos, you will discover that these platforms accept a wide range of cryptocurrencies in addition to Bitcoin.