People are occasionally divided into the broad classifications that include either being a dog or a cat person. Software developer Pragmatic Play, is here to help those who fall into the dog category and can't help drooling a little or scooping up warm prospects when out on a stroll. The Dog House, which was first introduced in May 2019, proved to be a huge success for the production company and well-accepted by the casino world.
Players were won over by its charm primarily due to the feel-good cartoon hounds, and the plus side is that they have all reappeared in a variation that barks more powerfully and bites deeper. However, as in numerous Megaways makeovers, some components are still present whereas others have been cut out, much like a sterilized dog. The question remains: Is The Dog House Megaways nevertheless man's beloved companion after the change?
The aesthetics should give you a lot of pleasure if you're the kind of player who enjoys sequels but shies away from change. The friends are back, still as naive and wide-eyed as ever before, and they are hanging out in the same rural compound with a white picket fence. The gaming space has been expanded to accommodate the 6 reel Megaways setup, which is the most significant difference.
With the potential for 2 to 7 symbols to appear on each spin of the reels, there are an astounding 64 to 117,649 possible ways to win. On top of the reels is a display showing the number that is active on each spin.
Users with keen eyes will observe that there is no bonus reel and no cascade or reaction features either. They don't even show up in the bonus game. When a win happens, the next spin is made. It's a contentious choice made by the provider that could frustrate some people.
The arithmetic model produces statistics that are close to those in the original and is playable for between 20 cents to $100. It starts with a respectable baseline RTP value of 96.55%. Running parallel to this is high volatility, which Pragmatic rates as highly as possible at 5/5. Even though free spins often appear quite early in testing, sessions can be challenging. Nevertheless, there is potential—nearly twice as much as was offered by the previous Dog House game.
Since these symbols are relics from the first Dog House game, they include; Shih Tzus, hefty 10 to A tiles, dachshunds, collars, pugs, Rottweilers, and bones. Despite the fact that win ways have increased and prices have decreased, a row of the premium dog icons is now valued around 1.5x and 7.5x the wager.
Once more acting as wild, the dog house symbol can occur on reels 5, 4, 3, or 2 and can replace any other symbol outside the scatter. A random multiplier of x2 or x3 may be assigned to any wild symbol that lands. Provided multiple wild appear as a member of a winning combo, subsequently, any multipliers are summed up to one another.
Graphics and Theme
The Dog House Megaways boasts a charming and light-hearted theme centered around our furry friends. The game is set in a colorful backyard, complete with a dog house and a sunny blue sky which resembles the original game so much! The Dog House's Megaways rendition of the visuals is perfect because there wasn't really anything about it that required to be changed. The reels are filled with adorable dog symbols, such as playful puppies, wagging tails, and paw prints.
The graphics in The Dog House Megaways are well-designed and visually appealing, featuring crisp and vibrant visuals that bring the theme to life. The animations are smooth, adding a lively touch to the gameplay. The attention to detail in capturing the playful essence of dogs is evident, making it a visually delightful experience for players.
The music that plays in the background is a cheery, upbeat tune, and the symbols all have the same lovely and silly dogs. The game is presented in a wooden dog home. Because of this, if you liked the first game's theme, you'll undoubtedly appreciate playing The Dog House Megaways demo or real money game at any reputable online casino such as Bet999.
Overall, the theme and graphics of The Dog House Megaways contribute to its enjoyable and light-hearted atmosphere, creating an immersive gaming experience for dog lovers and slot enthusiasts alike.
The Dog House Megaways: Slot Features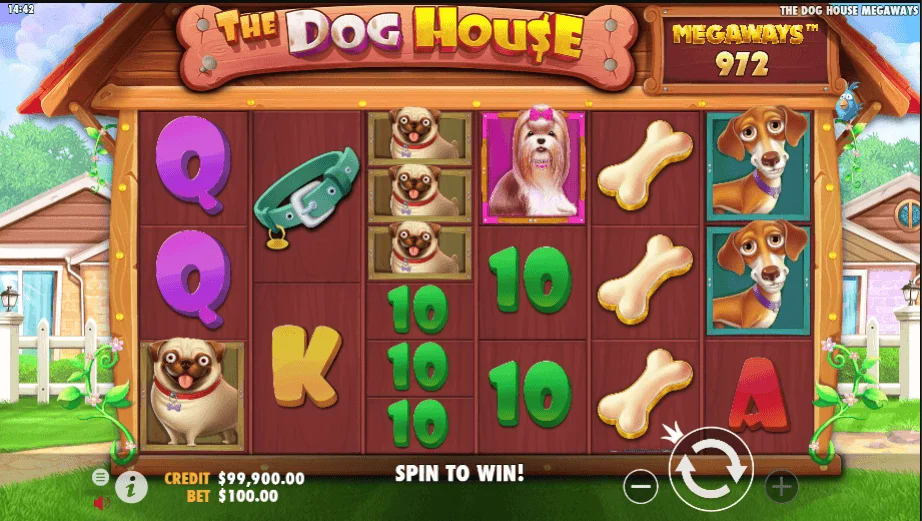 The Dog House Megaways slot offers several exciting features that enhance the gameplay and increase your chances of winning. The features are comparable to the predecessor with one or two changes, like the rest of the game. The first set of symbols are scatter images of a dog paw, which can appear anywhere. Three or more symbols trigger the bonus game, which gives players the option to choose between Raining Wilds Free Spins and Sticky Wilds Free Spins. Remember that neither function can be activated again.
When a player chooses the Sticky Wilds Free Spins option, he or she receives 20, 15, 12, or 7 free spins depending on whether 6, 5, 4, or 3 scatters are obtained. The number of sticky wilds that can appear on any one of the reels in this title can range from 2 to 7, and they can have multipliers of 1 to 3. Up till the conclusion of the round, the wilds are still present on the reels but their size changes as the reels spin based on how many Megaways are created.
The Raining Wilds Free Spins feature is a brand-new introduction; when it is activated, 30, 25, 18, or 15 free spins are received depending on whether 6, 5, 4, or 3 scatters are acquired. During this round, a maximum of six wild symbols with multipliers that vary from 1x to 3x may appear on the screen at various intervals.
Furthermore, instead of waiting for three or more scatters to appear, participants have the option to buy the bonus. For a fee equivalent to 100 times the bet, a random assortment of 3 to 6 scatters will land on the following spin.
Play Up to 117,649 Megaways

Up to 117,649 megaways are available to win when you partake in The Dog House Megaways slot via an online casino. The upper right hand side of the kennel displays the total amount of megaways possible on each spin. The total amount of megaways that you can play doesn't alter depending on the value of your stake, which can range from 0.20 coins to 100 coins every spin. However, because all awards are paid out proportionally, the greater the number of times you wager, the greater you are able to win.
You can set the autoplay feature to perform 10 to 100 spins at your selected bet for you if you feel like taking a quick nap or if someone offers to tickle your tummy. The maximum payouts for combining three to six identical symbols can be found in the Dog House Megaways slot paytable below, which is indicative of this high volatility slot's RTP of about 96.55%.
| | | | | |
| --- | --- | --- | --- | --- |
| Symbols | Prize for 3 | Prize for 4 | Prize for 5 | Prize for 6 |
| Scattered Pawprint | 7/15 free spins | 12/18 free spins | 15/25 free spins | 20/30 free spins |
| Rottweiler | 75 | 200 | 300 | 750 |
| Miniature Yorkie | 50 | 100 | 150 | 300 |
| Pug | 35 | 75 | 100 | 200 |
| Sausage Dog | 20 | 50 | 75 | 150 |
| Collar | 15 | 40 | 50 | 150 |
| Bone | 15 | 40 | 50 | 150 |
| A, K, Q | 10 | 20 | 30 | 100 |
| J, 10 | 5 | 10 | 20 | 50 |
Gain Greater Rewards Than at Crufts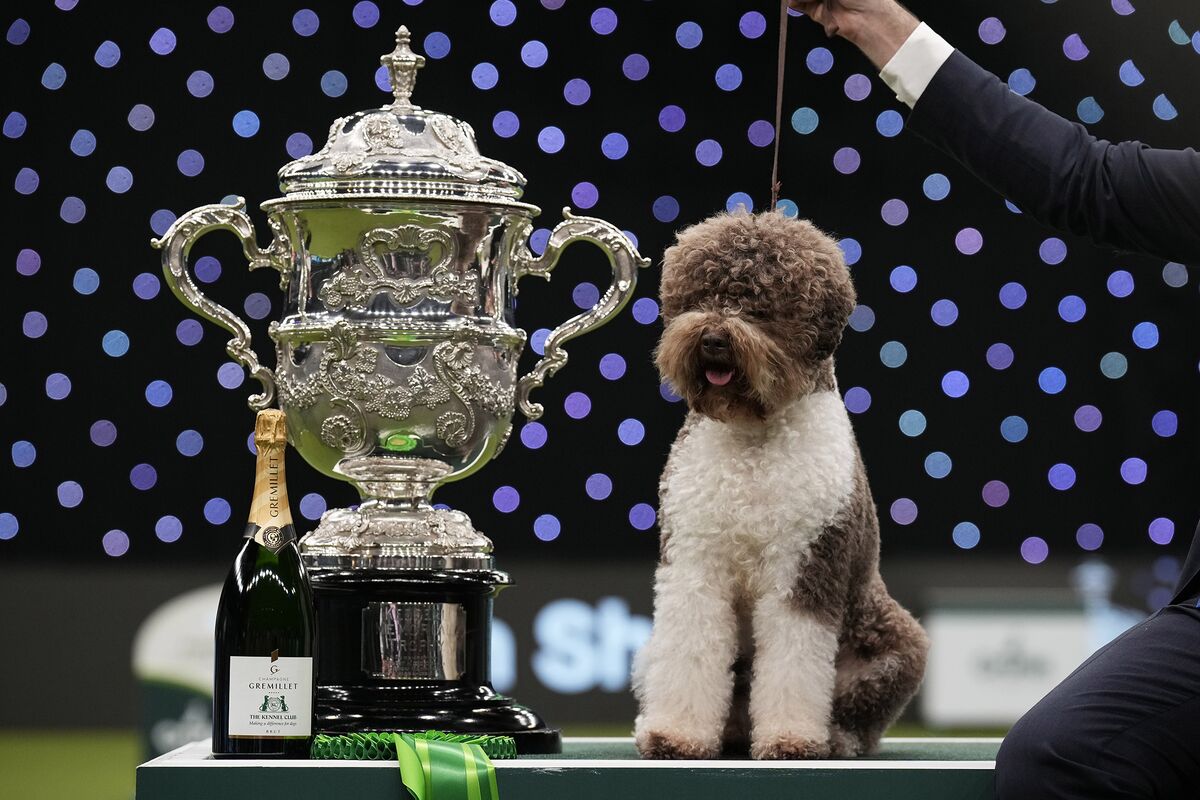 Although Crufts might be considered as one of the best dog shows in the world, playing The Dog House Megaways online slot with some tips and tricks can let you to win greater payouts. There are thousands of opportunities to achieve this through up to 117,649 megaways, and awards are awarded for lining up three to six identical symbols.
Additionally, wild symbols can be used to complete any winning combination. You'll find arbitrary multipliers in the shape of wilds on reels 5, 4, 3, and 2. These wilds will also work in conjunction to complete winning combinations when more than one wild is present.
A minimum of three scatter pawprints must be present in order for the free spins bonus to be enabled. The two options offered are raining wilds free spins and sticky wild free spins. Three, four, five, or six scatters will, respectively, result in seven, twelve, fifteen, or twenty free spins with a maximum of 7 sticky wilds if you choose the option for sticky wild free spins.
You can also select raining wild free spins to receive fifteen, eighteen, twenty-five, or thirty free spins with a total of 6 raining wilds. Each wild symbol that shows up on the reels within the bonus game also serves as a multiplier. When you engage in the Dog House Megaways slot machine, each of these features are a lot of fun and provide you the possibility to win some significant payouts.
Let the Dogs Out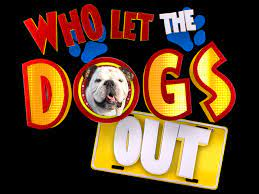 Participating in The Dog House Megaways pokies by Pragmatic Play is the pristine way to let out the dogs. With 117,649 megaways offering significant opportunities to win up to 12,305 times your wager, you'd be barking mad to not play. Additionally, there are some really adorable dogs.
When you activate either sticky wild free spins or raining wilds free spins, you'll be like a puppy with a bone since wild multipliers are a delectable reward. Get the dogs out and pick one of the excellent online casinos that offers this fantastic slot to play.
In the Dog House
The popular six-reel online slot machine Dog House Megaways from leading software developer Pragmatic Play is entertaining. A typical rural housing development serves as the backdrop to the reels, which are set in a dog kennel. A positive soundtrack is also available for listening to.
Dogs of many breeds, including rottweilers, pugs, and sausage dogs, are used as symbols. In addition, there are certain poker symbols as well as bones and collars. However, the wild kennel and pawprint scatters, are the most significant game symbols.
RTP & Variance for The Dog House Megaways

The Dog House Megaways' RTP (return to player) is calculated as 96.55%. Additionally, Pragmatic Play rates this slot as high volatility having a 5/5 level.
Verdict for the Dog House Megaways Slot
As was noted in the introduction, Pragmatic Play made a great deal out of The Dog House, so there will undoubtedly be many players rubbing their hands together in anticipation of a Megaways remake. Does it meet your standards? Based on what you had hoped for, yes and no. Players who desire the same or a similar experience on a Megaways grid will be ecstatic. The scenario isn't quite as sparkling elsewhere.
One reason is that without modifiers to provide an enhancement or a cascade-style feature to improve the experience, the base game is constantly in danger of becoming monotonous. The puppy's cuteness helps, but occasionally it can become little more than a waiting game for free spins. According to your opinion about bonus buys and whether they are legal where you live, you may choose to use them or not.
The bonus games, which might be anything from heartbreaking to pretty dang tooting, ended up being kind of a crapshoot as well. Always relying on chance, you may theoretically win more than 12,000x your initial wager if fortune is on your side.
The Dog House Megaways Slot FAQs
Where can I play The Dog House slot machine?
Bet999 online casino offers The Dog House Megaways slot machine for free play. You can discover and test out thousands additional thrilling slots on our website without cost.
Can play with real money The Dog House Megaways online?
Absolutely, using real money to play the Dog House Megaways online slot machine is the finest option. Enjoy a juicy crypto welcome bonus by choosing to play with a reliable platform right away.
Can I use a mobile device to play The Dog House Megaways slot machine?
Absolutely, many reputable online casinos let you play The Dog House Megaways game on a mobile device. In the browsers for Android and iOS, this game loads instantaneously. Therefore, try and play now on your phone.
What are The Dog House Megaways online slot top features?
There are several fantastic features in the Dog House Megaways online slot. Engage instantly for the opportunity to launch two excellent free spins rounds and take advantage of thrilling wild multipliers.
What is The Dog House Megaways' Return to Player?
The Dog House Megaways have a payout rate of 96.55%. In terms of new online slot launches, this is a little better than typical.
What is the top amount that can be earned on The Dog House Megaways?
While engaging The Dog House Megaways, the maximum payout is 12,305 times the wager. This is fairly generous in the gaming industry nowadays and gives gamers the possibility to win a fantastic prize.
How explosive is The Dog House Megaways?
Online slots game has a high volatility level. You may not win rewards very frequently, but the payments are still extremely remarkable.
Does The Dog House Megaways provide a free spins bonus?
The Megaways title has a free spins bonus that may be accessed by hitting three or more scatter symbols. There are two alternatives to consider; Raining Wilds Free Spins and Sticky Wilds Free Spins.