The well-known game designers IGT (International Gaming Technology) are responsible for the creation and design of the slot machine. The company is well known for creating and supplying software for worldwide casinos, both online and offline. It is also a leader in the development and manufacture of gaming devices and casino games. This specific casino game has grown to be so well-liked that IGT created two follow-ups to Cleopatra: Mega Jackpots Cleopatra and Cleopatra's Gem, which has a "level up" feature.
The game is centered on the alluring Egyptian Queen Cleopatra, and it features gaming elements that are heavily influenced by Egyptian culture. Cleopatra is an intriguing and thrilling video slots game that is perfect for people who wish to try their hand at slots.
This casino game is for you if you enjoy the mysteriousness and fascination of anything and everything associated with Ancient Egypt, such as the Eye of Horus, pyramids, the pharaohs, scarab beetles, and the Sphinx.
Brief History of Cleopatra
Cléopâtra VII Philopator, also known as Cleopatra was the last Egyptian pharaoh to rule the country, and reigned for twenty-one years. She belonged to the Ptolemaic dynasty, a Greek-born family that is descended from the illustrious conquistador Alexander the Great, and was one of its more important members. Because of her beauty, Cleopatra is one of history's more prominent personalities. She was ranked among the most exquisitely beautiful women that has ever lived, according to scholarly historians and researchers. She was known for having the charm to change the minds of even the most obstinate men that came into her domain, adding to her long, illustrious reputation.
The Graphics And Themes of the Slot Game

Cleopatra is another one of several slot machine games with graphics and symbols designed to be so bright and exquisitely crafted that they are a visual feast. Bright reds, blues, greens, and yellows pop out from the screen in this amazing slots game, grabbing the player's interest right away.
The reels are set over a royal blue backdrop and encased in a golden sandy temple that is adorned in a suitably opulent Egyptian manner. The paylines on the left and right are indicated by small scarab beetles in various colors.
The paylines match the color of the scarab beetles when you win, pulling the entire theme together.
How do you Play Cleopatra slots
How do you play slots? As was already said, the slot machine is based on common slots, which can be found in many brick-and-mortar and online casinos. In order to trigger the pay line, players must insert coins into the game. The amount of money the gambler must then wager on each pay line will depend on how many combos are matched during play. The wild and scatter symbols are just two of the additional characteristics that improve players' profits. The Scatter symbol is the Sphinx, an iconic Egyptian landmark. A bonus free spin round with 15 spins is triggered when at least three of these symbols appear on the reels. The player has the potential to win up to 180 free spins during the bonus round. When a winning combo emerges in the free spin bonus round, the player gets the chance to triple their winnings. When playing on a regular basis, if greater than two scatter symbols appear on the reels, the payout is doubled.
The Wild emblem is none other than the Queen Cleopatra. The wild symbol, with the exclusion of the scatter, can be substituted for other symbols to assist the player in forming a winning combination. Additionally, the payout will be doubled if the player utilizes the symbol in a combination that wins. If a total of five wild symbol combos during the duration of the game, the player will get 10,000 credits and the opportunity to win up to 100 times their wager.
How to Excel at Free Cleopatra Slots?
Anticipate expensive goodies to emerge on the screen after spinning the wheel. The wager stake affects the quantity of earnings; the higher the stake, the greater the prizes. Since the original Cleopatra slot machine has 5 reels and 20 pay lines, it can be played for free or with real money. It has many scatters, additional "revolves", and high paying symbols in abundance. Thematic symbols that appear most frequently are: Legend of Cleopatra, Scarab Beetle, Eye of Horus, Gold Pendant, and more.
When two or more of a kind symbols appear on the reels, scatters doubles the wager during regular gameplay. Cleopatra, the queen who is portrayed, serves as a Wild symbol. It can substitute for all other symbols besides scatters to initiate a winning round. Additionally, it enables the payment percentage to be doubled.
Odds of Winning Cleopatra Slot Machine
Although you won't experience much control over the outcome when participating in the Cleopatra slot machine in an online casino in the online form with the highest stake-it is not absent. Optimize the number of pay lines while the reel is still whirling to boost your probability of winning. You boost your chances of finding a winning combo by choosing 20 pay lines.
Cleopatra slot machine symbols
When you first start the game, the vibrantly colored, meticulously sculpted icons on the reels, including the alluring Cleopatra herself, are sure to capture your attention.
Any last-minute apprehension you may have about your upcoming excursion will be allayed by a few thrilling music bars playing in the background. You certainly won't be disappointed.
Regular Cleopatra symbols
It is surprising that the two figures most intimately identified with Cleopatra; Julius Caesar and Mark Antony, are not included in the game's emblems. On the contrary, the five normal symbols with the highest payouts are as follows:
Scarab Beetle: Having a green background, this classic Egyptian emblem signifies immortality.
Lotus: Three flowers, having a purple backdrop.
Cartouche: An Egyptian hieroglyphics tablet made in gold with a blue background.
Crook & Flail: A background of gold displays two tools overlapping across each other.
Eye of Horus: An historical Egyptian symbol representing security, wellness, and rejuvenation is a single open eye set against a red backdrop.
The scarab and lotus are the two frequent symbols with the biggest payouts. On the maximum wager of $200, five of a type across the reels rewards 37.5x the amount you wager, or $7,500.
The playing cards nine to Ace are the six standard symbols with smaller payouts.
Except for the lotus, scarab, and nine symbols, winning combinations happen when three or more of the identical character appear on adjacent reels along an active payline that runs from left to right, beginning with the reel 1.
The minimal two-of-a-kind combination in neighboring reels beginning with reel one is all that is necessary for the scarab, lotus, and nine-card to result in a winning combination. Of course, there is little money to be won with just two of such characters, nevertheless it is still better than none. Only the largest win on an active payline will be compensated.
Wild symbol
As one might anticipate, Cleopatra serves as the wild symbol. As a result, it can be used to make winning combinations or to complete ones that already exist, substituting for all other symbols aside from the scatter symbol.
When the combo that wins includes the Cleopatra wild symbol, the payout also doubles. Another lovely addition is the expression "twice is nice," something you will also encounter. The fact that some of these "wins" are so small that they barely compensate for your stake size, despite with the double payout, is not so good. Additionally, you can have a lengthy run of consecutive spins with no wins.
Cleopatra by herself is perhaps the most valued symbol in the game. To create a combination that pays out, two or more must land next to each other on a payline that is active, beginning with reel 1. For two, three, four, or five consecutive Cleopatra symbols, you will be paid halve, ten times, one hundred times, or five hundred times your original wager, respectively. With a maximum wager of $200, you will win $100,000 if you are fortunate enough to have five identical symbols land across the reels.
Scatter Symbol
As a scatter symbol, the Sphinx is used. The free spins bonus game will begin when three, four, or five of the aforementioned symbols emerge concurrently anywhere across the reels. The bonus consists of 15 free spins with a 3x multiplier (or a 6x multiplier if Cleopatra assists you in winning on any of the free spins).
But there's more than that. If a minimum of two scatter symbols show up on the reels, you win instantly. You will swiftly win two times, five times, twenty times, or a hundred times the original amount you stake if two, three, four, or five scatter symbols land on the reels.
The RTP And Variance of the online slot
RTP, also referred to as the return-to-players percentage, refers to the percentage of your initial wagers that a slot machine will ultimately return to you. The good news is that, in general, online slots have RTPs higher than those found in traditional casinos, and this particular slot game is no exception, having a reasonable RTP. Because the RTP indicates what players will receive over an extended period of time, anything could happen in the short term.
The slot machine's computed RTP of 95.7% is approximately average for video slot machines. Since the title has a moderate to medium level of volatility, it offers many frequent wins of smaller values as opposed to sporadic large wins.
Slots "for Real Money" Playing
You might find ways to take advantage of the free Cleopatra online slots, but we firmly advise against it. This is particularly true if you play slots for real money and not just for fun, since such attempts are quickly exposed. For the benefit of all parties, keep it straight and truthful. If you're a beginner, you could choose to begin playing with the demo version until you've figured it out, at which point you can start investing real money. We advise that you always give the free version of the Cleopatra slot machine a try before jumping in headlong and starting to play for real money. 150–200 free spins are recommended for those who want to really get acquainted with the game.
When you play a game for free, you may determine if it delivers everything you desire and if your approach to playing fits it. It can also be used to get acquainted with the bet levels, payout percentages, and incentives. In order to optimize your gains in any case, it's critical to remain composed, use common sense, distribute your funds fairly, and most importantly, have fun!
This game is compatible with mobile devices that use several operating systems, including iOS, Android, and Windows. Installing Adobe Flash Player or choosing the HTML5 version of the game is all that is required to play cleopatra slot and to ensure a smooth game experience on your device.
Top Ancient Egypt Slots at Bet999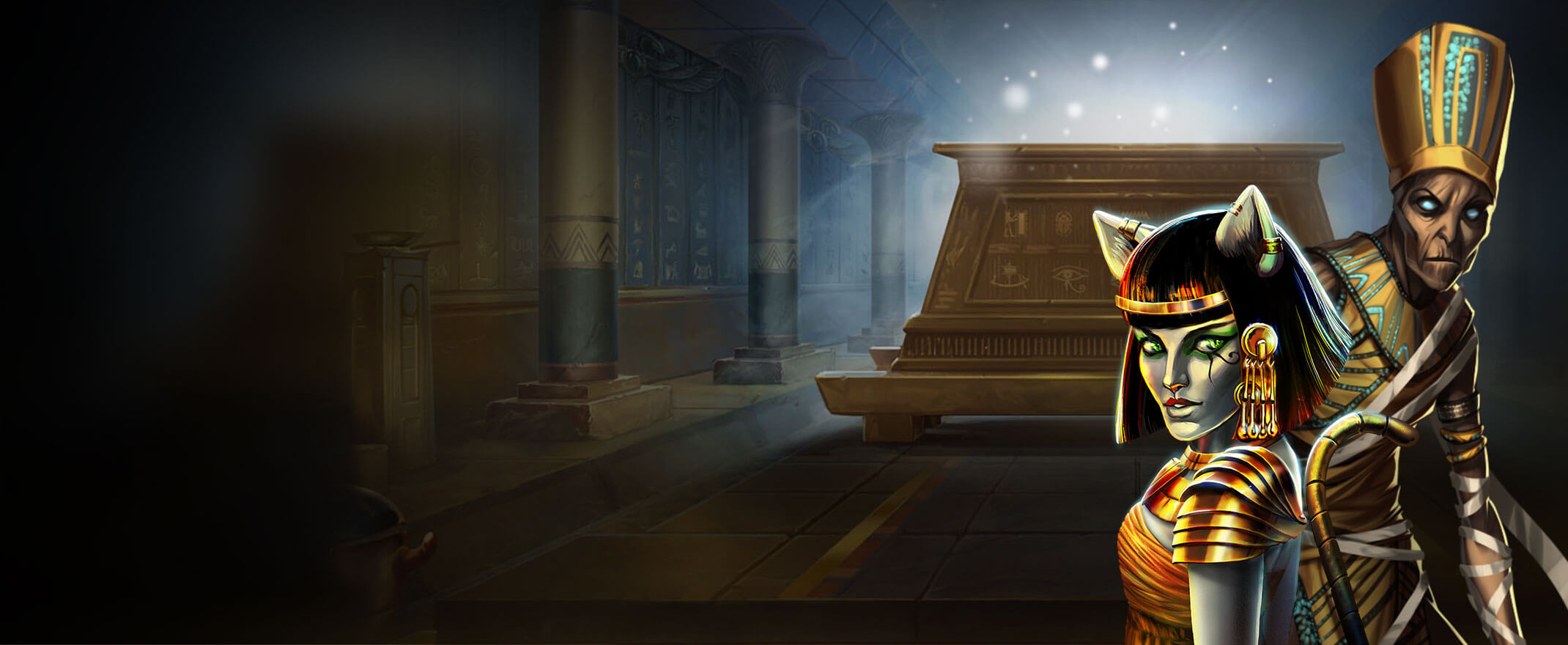 When you register to play casino slots at Bet999, there are thousands of options to choose from with various themes. Ancient Egyptian theme slots of various types from numerous game providers are available to try out. Therefore, if you have a specific game you wish to play, make use of the search bar to locate it speedily. Some of the available options are;
Eye of Horus
Sun of Egypt
Rise of Egypt
The Cleopatra Slot Series
There are numerous spin-offs and adaptations to this game since IGT is aware of its ability to capitalize on hits. The several Cleopatra online slot versions that can be seen online are as follows:
Cleopatra Gold: Players can win up to 5,250 times their wager in the top reward on this 20-payline IGT slot machine, which also has a number of additional features. In addition to standard wilds, this edition also features stacked gold wilds that may be moved into positions to grant respins. A free spins bonus that triples any winnings is also available.
Cleopatra Plus: There are 40 paylines in this Cleopatra slot game, and it boasts a special LevelUp feature. In Cleopatra Plus, as you gain followers, you'll be granted access to increasingly lavish free spins rounds. Stackable symbols, stackable wilds, and multipliers up to 150x are all available in these bonuses.
Cleopatra Mega Jackpots: Players who engage in the Mega Jackpots version have the opportunity to win progressive rewards. The top jackpot starts out at a prestigious $1 million!
The Cleopatra slot game series offers players a fun online gaming environment across all of its slots. It's uncommon to play a brand-new Cleopatra slot machine and feel fed up while the reels are rolling.
All different kinds of online slot gamers are targeted by the slot series. Therefore, the original game itself is your best option if you want a more traditional gaming experience. If you want a big win, you might also want to try the Mega Jackpots edition.
How I did while using the demo mode
Twice playing $20 per spin on the Cleopatra slot machine in demo mode. Each session had success. I didn't win right away, and I never once activated the free spins bonus round.
The free spins have the capacity to yield enormous payouts, particularly if you are able to retrigger them, but I suppose it is difficult to even get them to start.
The base game allows you to win significantly as well, but it may take a while. It is crucial to play with a bankroll that is sufficient for the betting stake you decide to use.
Even after getting a "big win" of $298 during a particular playing session, I was still approximately $100 in the hole. I was $277 ahead after a second, larger win of $454 and made the decision to stop playing.
In the other playing session, I lost nine consecutive spins before finally winning $210 in one spin, which was quickly followed by a single spin win of $439. I had $310 more when the session was over
Is the slot game worth your time?
If you choose to play Cleopatra slot game, I advise choosing the version that is available online over the physical version for only the fact that the RTP of the online version is better.
The difference is caused by the fact that only two scatter symbols and two No. 9 symbols need to appear on each of the first and second reels, respectively, in order for the online game to pay out, unlike the physical casino game.
The animations and visuals when you play cleopatra slot game are decent but not outstanding when compared to other, more recent slots.
The developer defines this slot as having "medium volatility," however in reality, the volatility level is more in line with "medium-high."
Conclusion
We truly put the Cleopatra slot machine through a number of tests when we tested it, and we're happy to tell you that there isn't any aspect about it that we didn't like. Even though the game is not brand-new, it has been brilliantly performed using a tried-and-true theme and methodology to give you the best possible amusement.
In addition to having stunning graphics, the Cleopatra slot's low to medium volatility is a major benefit because it allows you to accumulate regular earnings much faster than you would in a game with more volatility. You've got a winning formula when you combine this with the retriggerable Wild, Scatter, and Free Spins bonus.
The game would definitely benefit from the addition of a new bonus feature if you could modify anything. Playing free Cleopatra slot game would be ideal for a pick-me bonus, but if you'd prefer Cleopatra Plus, it has more features.
Cleopatra is a fantastic online slots game in our opinion, and anyone who plays it will love it in all of its aspects, regardless of how you want to see it.
FAQ
What is the RTP on the IGT's Cleopatra slot?
The payout percentage of this IGT's slot machine is 95.7%. Although this is slightly below average (the current going rate is 96%), it makes sense given the game's age.
Does the slot offer free spins?
Absolutely. In the bonus portion of the game, you'll have 15 free spins available, and these can be retriggered 180 times total. All wins during this cleopatra bonus feature are multiplied by three.
Is the Cleopatra slot a high volatility title?
You'll be able to win rewards more frequently than in a game with high volatility if you play Cleopatra online slot machine with low-to-medium volatility.
What is the top game in the Cleopatra series?
Due to the fact that it established the entire genre and served as the primary Cleopatra game, we would argue that this slot is the best in the entire collection. Even though the Gold and Plus versions are more recent releases, the original Cleopatra game remains the greatest one available.
What is the maximum winning potential for the casino slot game?
The astounding 10,000x payoff is the highest one offered by the Cleopatra slots. The game certainly was a step ahead of its time because you don't often see payouts this big in previous slot games.